Sunday night, June 17th, The Rosebuds with Land of Talk and Tracy Shedd play at Plush. Fans of Yo La Tengo, Superchunk, Viva Voce, The Spinto Band, Rogue Wave and Stereolab will enjoy The Rosebuds.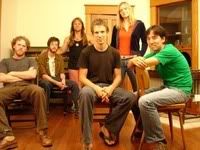 Monday, June 18th Shearwater, featuring Will Sheff of Okkervil River, w/ local band Redlands and touring band Minus Story will play Plush.
Tuesday, June 19th, Brandon Kosters will play Rainbow Planet Coffeehouse 7-9pm,our very own Al Perry will play in the lounge at Plush, and David Mulligan with Vicki Brown and Dal Conner will play Club Congress. I recommend The 17th Street Band at O'Malleys which includes Harvey Brooks (former Bob Dylan guitarist) and local favorites like Tom Walbank, Tom Kusian, Arthur Migliazza and Amo Chip Dabney. I will be at the door taking a $5 donation for KXCI.
Toubab Krewe will be at Plush on Wednesday
Wednesday June 20th, Toubab Krewe will be at Plush. I saw Toubab Krewe last year at the Joshu Tree Music Festival and thoroughly enjoyed their mix of African rhythms, blues, an rock and roll. Other options include the Aggrolites and SKITN @ Club Congress and Eleisha Eagle @ The Hut.
Tom Walbank will be in the lounge at Plush on Thursday
On Thursday, June 21st, David Bromberg with Angel Band and Terri Hendrix will be at The Fox Theatre, Fuga with Tierra Y Libertad and Local Youth Poets @ Solar Culture, The Clumsy Lovers @ The Hut, and Tom Walbank @ Plush.
Friday, June 22nd you have some great choices with Jana Hunter with Flagrante Delicto @ Solar Culture. The Mission Creeps, with The Love Me Nots and Three Corsairs @ Plush and Jeremy Michael Cashman @ The Hut. The Mission Creeps play bluesy rock and roll. If you like Roy Orbison you will enjoy The Mission Creeps. Jeremy Michael Cashman plays ambient lounge rock and is a pleasure to behold.
Two Car Garage will be at Plush with The Deludess and Sputnik Monroe on Saturday
Saturday, June 23rd there are a lot of good choices with Hot Tuna Acoustic Show @ The Fox Theatre, T.M.I. @ Rainbow Planet Coffeehouse 8-10pm, Vampire Weekend @ Solar Culture, David Serby [honkytonk-country-rock], with KXCI favorite Kevin Pakulis @ The Hut, and The Deludes, with Two Cow Garage and Sputnik Monroe @ Plush.